Sailing Provincetown, Cape Cod & More
Hindu Sailing Charters
Hindu Charters is a local, family-owned, and operated business offering seasonal daysails, sunset sails, and private charters aboard our classics in Provincetown, Massachusetts. Join us this season for a sailing charter in Cape Cod Bay aboard our classic wooden sailing yacht Bloodhound. We also sail out of Key West, Florida year-round aboard the Argo Navis.
View More Information About Our Provincetown Summer 2023 Sailing Charters Below.
Enjoy an afternoon sail on the classic yacht Bloodhound
Our hour and a half day sail around Cape Cod Bay is a family friendly sail, so bring your kids, your dog, and a picnic aboard! Or, check out the options made just for our trips by our partner Perfect Picnic Ptown!
Watch the sunset aboard the classic yacht Bloodhound
Our Provincetown sails are all BYOB and nibbles. Pack a picnic with your favorite hors de ouvres and drinks to enjoy as the sun sets; or, check out the options made just for our trips by our partner Perfect Picnic Ptown!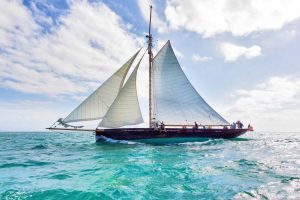 About the Bloodhound: The original Bloodhound was built in 1874 for the Scottish Marquess of Ailsa. Designed by the legendary William Fife II, she was one of the first yachts of the era built exclusively for racing, incorporating a narrow beam, cutter rig and tall sail plan. She won every race she entered until she burned in a fire in the 1920's. The replica, built in the 1990's in Del Ray California, is based on drawings recovered from the Kennedy Family Castle in Scotland. The Bloodhound has seventy feet of beautiful teak deck, a 22 foot retractable bowsprite and a 48 foot boom. She has 3,500 square feet of sail, including a jackyard topsail. We look forward to sailing with you!
More Provincetown Sailing Charters
About Hindu Sailing Charters
The company began with the Schooner Hindu, an original 1925 Maine built gaff rigged schooner, working year round between her two, unique, end-of-the-road ports of call, and has now grown to include the 75′ Sailing Catamaran Argo Navis (offering year round luxury sailing trips exclusively in Key West), and the extraordinary 1872 designed race boat Cutter Bloodhound who travels alongside the Schooner Hindu creating our classic fleet.
Overall, Hindu Charters is dedicated to providing a unique and personal luxury sailing experience whether aboard the original company boat steeped with history-Schooner Hindu- the newly built sleek catamaran Argo Navis, or the powerful cutter Bloodhound. Expect to be moved by the commitment of the company to preservation and innovation, the hard work and knowledge of the crew, and the souls of the boats themselves. Read about our Promise To The Schooner Hindu Here. We invite you to sail as you are.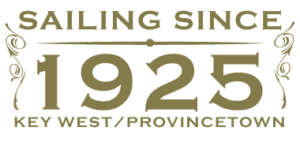 See What Others Are Saying About Us
It's a beautiful vessel, and though there wasn't a lot of wind for us we still saw a lot of the bay and even a seal. The dogs were a highlight for our daughter out of all our Cape vacation. The crew are really nice and there's lots of space on the deck, between groups. The trip was well worth it.
Guamer from Guahan
2022-09-06
My wife and I were married on the Bloodhound on a sunset cruise! Josh, Erin, and the crew were phenomenal! We came back the following year for our anniversary for another sunset cruise! We will continue to do so every year moving forward!
Delightful sail on a wooden sailboat.
A fun way to drink some wine with friends and watch the deck hands control the ropes.
It was an amazing boat tour! We had so much fun, the crew were very friendly and the Captain very informative but funny during is
Gilberto Garcia
2022-07-27
Karen Macmillan
2022-07-07
This boat ride was amazing on all counts!!! This was my first time ever on a sailboat. First, the crew was awesome and fun! Super friendly too! The boat is so beautiful and my heart skipped a beat when they let the sails out and the wind took it. It was a beautiful sunny day 😀🌈
Heather Kingery
2022-06-22
We had SO much fun on our sail. The crew was amazing and made the experience so great for us. The boat was absolutely beautiful. Highly recommend!!
We had a wonderful time with the crew of the Cutter Bloodhound. We lucked out with beautiful weather and the hour and a half was the perfect amount of time to sail around and check out the sites. Erin was awesome and the dogs on board were great company. I would highly recommend them to anyone looking for a day or sunset sail. (The private charters looked cool as well. One was just finishing as we got on for a day sail).
At Schooner Hindu Sailing Charters, we believe in supporting our local businesses and partners that make our community unique. Some of our local offerings featured on our sailing charters are listed below. If you are visiting Provincetown and are looking for ideas on what to do, we can help you find all the best stuff in the area. Read more about our local partners and attractions here.